On Wednesday, November 9, 2022, the closing ceremonial of the Prague part of the 23rd Mezipatra took place, during which we found out this year's winners. The winner of the feature film competition was Five Devils in which little Vicky is using her supernatural powers to reveal the past of her mother and the mother's sister in law.
The main jury commented on their choice of this year's winner as following: "A truly accomplished work that masterfully and seamlessly blends genres and uses them to convey the themes of oppression and discrimination, as well as the importance of unconditional love. It shows how despite the choices and mistakes you make in life, you're allowed to deal with the past and get a second chance, which is especially meaningful for a queer person. We were deeply moved and impressed by this outstanding work of art, perfectly directed and cast, with a beautiful cinematography and soundtrack, that shows a promising great talent, but also a very assured filmmaker. The Main Jury Award for the Best Feature Film goes to The Five Devils (Les Cinq diables) by Lea Mysius."
Special mention from the jury went to the film Senior Prom. "A heart-warming portrait of exceptionally charming seniors, who offer moving reflections on life, love, identity and remaining true to yourself. Through personal archives and conversations, we retrace the life of a generation of queer people who fought for our right to live and love without fear. Our special mention is dedicated to Senior Prom by Luisa Conlon."
The student jury award went to the French-Lebanese short film Warsha. The jury stated as following: "Confined in a world dominated by hyper-masculinity and religion, the central character struggles to be their true self. When their attempt at finding peace and solitude is shattered, they find absolute freedom and transcendence in an unlikely safe space. Through soul-stirring music and a cathartic expression of movement, this strikingly visualized short takes explorations of queer identity and isolation to dizzying new heights. The Students Jury Award for the Best Short Film goes to Warsha by Dania Bdeir."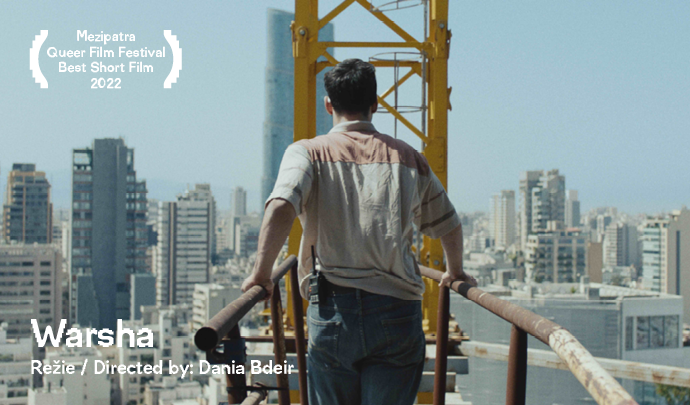 The prizes for the winning films were traditionally prepared by the DECHEM design studio:
"In reference to this year's slogan we designed a creative concept using experimental glass samples and put together three unique sculptures. Each of them is a tesitimony to a bold and courageous way of life representing symbolically various forms, colours, sizes and tones every personality can assume." - Lisa Wübbeler, designer.
Foto: Kristina Hrabětová